Dubai World Central Airport, also known as Al Maktoum International Airport, is a new gigantic airport in Dubai. Although Dubai already has a huge airport that is one of the largest in the world, the sheikhs of Dubai decided to build another gigantic airport. The Dubai World Central Airport could become the largest airport in the world with a capacity of 160 million passengers per year. 160 million a year means almost half a million passengers a day, much more on peak days!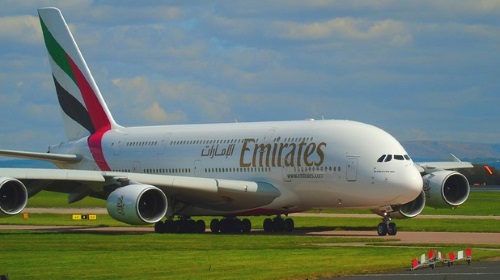 An A380 of the Dubai airline Emirates
At the moment (October 2018) parts of the new Giga-Airport are already opened, but essential things are still under construction or planning.
For example, the new Al Maktoum International Airport has no rail connection yet. Dubai currently has 2 metro lines (red line and green line). 2 more subway lines are planned or under construction (blue line and purple line). Both will end at the new airport.
The new Dubai World Central Airport opened a few years ago (in 2010). In the beginning it was a pure cargo airport, since about 2013 there are also passenger flights to the new airport south of Dubai. However, the figures fall far short of the original expectations. Less than 1 million passengers currently use the new airport every year. That is only around 1% of all Dubai flights, 99% still use the old Dubai International Airport north of Dubai City. The lack of rail access is just one of the problems.
Further expansion plans Dubai World Central Airport
There are plans to expand the airport to a capacity of over 800 million passengers per year. There will be several large terminals, 5 runways, hotels, leisure facilities and much more.
New city districts are to be built around the new Dubai Airport, including gigantic housing estates for hundreds of thousands of people. More than 800 high-rise buildings are planned. Industrial areas and many logistics companies are also to be established. The whole project is called "Dubai World Central" and is to become one of the largest construction projects of mankind. A total area of 140 km² has been reserved for Dubai World Central.
Whether all of this will ever be built, however, is currently unclear (autumn 2018). A few years ago, the construction of the two new metro lines to the new Al Maktoum International Airport was even stopped. This is mainly due to financial problems caused by the financial crisis, which has hit the states in the Persian Gulf and on the Arabian Peninsula particularly hard. Some critics are of the opinion that Dubai is simply taking over with the Giga construction project. It's exciting to see how the huge construction project will continue in the coming years.
Important tip: buy tickets for Dubai beforehand


Deutsche Version dieses Artikels