Dubai International Airport is one of the largest airports in the world. According to some statistics, it is the third largest airport in the world with almost 90 million passengers per year. Only the airports in Atlanta and Beijing have more passengers (as of 2018). Nevertheless, Dubai is currently building an even larger airport, the World Central Airport Dubai. The new airport has already opened, but only a few flights. This article is about the old airport, the Dubai International north of the city. The brand new airport is south of Dubai City.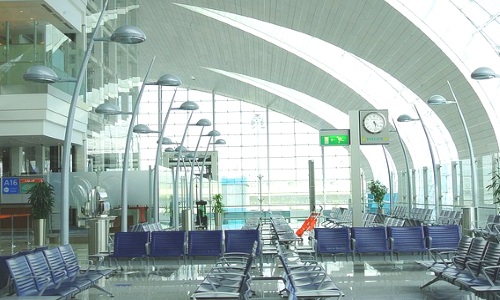 Dubai International Airport is also one of the world's top 10 airports in terms of freight volumes. According to statistics, 2.8 million tons of freight are handled here every year. This would be number 5 in the world. Dubai Airport is also the world's largest duty-free shop.
The major airline at Dubai International Airport is Emirates. The other major airline of the United Arab Emirates Etihad Airways uses more Abu Dhabi Airport. Emirates is one of the largest airlines in the world. Emirates is known for the many A380 aircraft in its fleet. So far (autumn 2018), Emirates has 105 A380 widebody aircraft in service. The company's home airport is Dubai International Airport.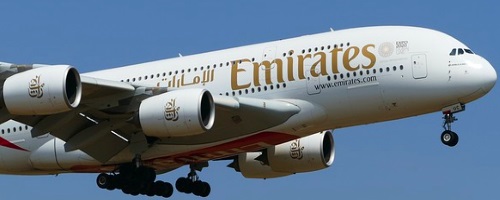 Over 100 airlines now fly to Dubai International Airport. You can fly directly to 150 destinations around the world from Dubai. There are over 1000 flights per day (total flight movements with freight flights). There are two runways at Dubai International Airport.
Metro Dubai to Dubai International Airport
The Dubai metro stops twice at the airport, at Terminal 1 and Terminal 3. The metro goes directly to the city centre (Red Line). After 4 stations you can change to the other metro (Green Line) at the underground station "Union".
The new city centre (Downtown) can be reached directly with the red line (highest building of the world Burj Khalifa, biggest shopping centre of the world Dubai Mall, biggest aquarium of the world, biggest fountain of the world and much more). The fares of the Metro Dubai are cheap, departures are frequent (every 4 to 7 minutes) from about 5:30 to 24 o'clock, Friday from 10 o'clock in the morning.
Just a stopover in Dubai?
Not all passengers get off in Dubai. Many Asian tourists only make a stopover in Dubai. Some also stay a few hours or days and look at Dubai during a stopover. You can also book a short trip (a few hours) to Dubai on a stop-over. There is a good offer on this website.
Important tip:

 buy tickets for Dubai beforehand


Deutsche Version dieses Artikels