Ski Dubai are gigantic halls in Dubai, where you can ski in the middle of the hot desert. In addition, there are facilities for other winter sports, such as a bobsled track, a sled track and a half pipe. In another part of Ski Dubai live penguins. The whole complex has an incredible area: well over 2 hectares of land covered with snow and ice.
Filipe Fortes from New York, United States – CC BY-SA 2.0, Link
There are 5 slopes for skiers from beginner to advanced. Much more than 1000 people can ski at the same time in Ski Dubai. In the hall is always a temperature of about – 1 degree, while outside is often over 40 degrees. Since in the desert hardly anyone has skis with them, visitors are provided with everything, sports equipment such as skis, snowboards, sleds or bobsleds, as well as clothing for the winter.
The ski slopes are right in the city of Dubai in one of the largest shopping malls in the world called Mall of the Emirates. Ski Dubai is easily accessible by metro (subway).
By Tobias Zuber – photographed by brother, CC-by-sa 2.0/de, Link
Tickets Ski Dubai for 2023
You should definitely buy tickets in advance on the Internet. On site, it is often difficult to get tickets. In addition, you often have to queue for tickets at the box office for a long time or wait until something is free. You also take little risk. The tickets from the provider we recommend below can be canceled free of charge up to 24 hours before the date.
Tickets for ski or snowboard in Ski Dubai
As in real mountains, there are several approaches, lifts (chairlifts and drag lifts). Everything is provided: Skis or snowboard, ski boots, poles and complete clothing as desired. Ski instructor, i.e. ski lessons, is also included. You can ski for 2 hours and use all 5 slopes in the leisure park Ski Dubai. Be sure to take your camera, no one else at home will believe it.
Tickets Ride attractions in Ski Dubai
Besides the ski slopes, there are also various rides in the snow park in Dubai. In a kind of bobsled track you go down with 45 km/h (Mountain Thriller). In the Zorb Ball you roll down a slope in a big ball. In addition, you can go bobsledding, sledding, tobogganing and more. You can also use the big chairlift with a great view as often as you like, just like everything else. You get the winter clothes etc. provided. Great experience. It is a day ticket, you can also go out in between. The whole thing is called Snow-Classic day pass
Tickets Penguins Ski Dubai
Relatively new in the amusement park Ski Dubai are the penguins in Ski Dubai. There are two species, Gentoo penguins and King penguins. The king penguins are very large, they can reach almost 1 meter in height. The Gentoo penguins are known for their cries that resemble donkeys. Both species live mainly on islands around the South Pole, the Gentoo penguins to a greater extent on the Falkland Islands.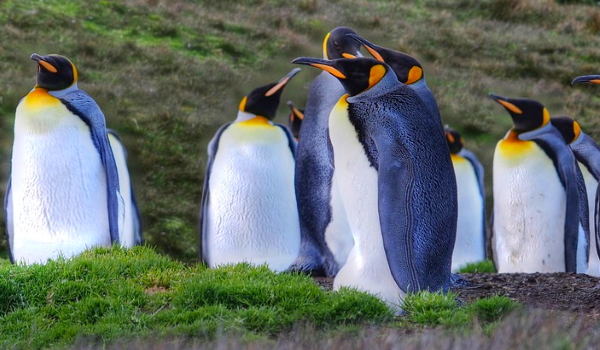 King penguins
In Ski Park Dubai, the natural habitat has been recreated. It is not like in the zoo, you can go in to the animals and also play with them and observe them up close. Really a unique experience, we have never seen anything like this in Europe. Great for kids, but also for adults. A great new attraction in the desert land of Dubai.
More information about Ski Dubai
There are several ski slopes. One indoor ski slope is considered very difficult and is only suitable for experienced skiers. Other approaches are good for beginners and intermediate skiers. So there is something for everyone. Snowboarding is also available as an option.
There are different lifts in Ski Dubai: chair lifts, drag lifts and conveyors.
The indoor ski resort in the desert in the United Arab Emirates have year-round opening hours. On weekends from 9 am to 11 pm. During the week, in some seasons, Ski Dubai opening hours are slightly shorter.
The highest altitude difference of the slopes is about 85 meters. The longest run (approach) is about 400 meters long
You can look into the ski hall through large windows in a café in the Mall of the Emirates shopping center. With a coffee or a coke you can watch the hustle and bustle in the ski hall in Dubai.
Not far from the ski hall Dubai is a 5-star hotel (Kempinski) and other hotels. From some windows in the Kempinski you can also look into the halls of Ski Dubai.
There is also an après-ski hut
Also the UAE national ski team trains in the hall, mainly slalom
The bobsleigh tracks, the ride in the ball and other rides are especially liked by many visitors
Petting the penguins is the highlight for many children. Some penguins are quite large and weigh up to 15 kilograms.