Those who travel to Dubai mostly come because of the big, modern sights in the city of Dubai, because of the warm climate all year round and because of the beach. But almost everyone wants to visit the countryside, the big desert. A large part of the tourists who make a day trip to the desert in Dubai do a so-called desert safari. These are organized excursions, mostly in small groups.
–>> You can book the safaris on this German website
What is a desert safari in Dubai?
Most organizers pick up your guests at the hotel and bring them back again. You drive to a camp in the desert. Various activities are offered here, all of which are included in the tour price. Usually these are about 10 things like a ride with an off-road vehicle and or a quad (about motorcycle with 3 wheels) through the desert, a dinner in the desert (usually large buffet), camel riding, sand boarding, belly dance show, water pipe smoking and some more. Often these tours start in the afternoon because of the heat and you are back in Dubai late in the evening. The whole trip in Dubai's desert takes about 6 to 8 hours.
–>> You can book the safaris on this German website
—>>>>  On this link you can book the tours
Further safari tours:
1st Al Khayma Camp: Camel Safari, Red Dunes and BBQ; More info and booking
2nd Al Khayma Camp: Quad Bike Riding, Sand Surfing, Camel Riding and BBQ: More info and booking
3. 4X4 jeep driving on dunes, 30 min quad biking, camel riding, shows, dinner: More info and booking

What are the offers?
There are different offers from different organizers in different camps. Below are some of the tours we suggest. All offers have received very good ratings from participants on the Internet. The prices of the tours are quite different and depend on the content of the tour and the organizer. For some offers for desert tours in Dubai the price is calculated per person, for others per vehicle. Then the price for 1 person is the same as for 4 persons. Almost all offers for a Dubai desert tour include camel riding and sandboarding. Usually also a route with a 4-Rad-Fahrzeug or a Quad is thereby by the desert. Many desert trip offers include a meal in the desert of Dubai (mostly buffet).
The tour guides of the desert safaris all speak English, tours in German into the desert of Dubai do not exist as far as we know. With many providers you can choose if you want to have a car or, of course cheaper, only if you want to book one or more places in a car. The vehicles are laid out with many organizers for maximally 6 persons.
---
—>>>> On this link you can book the safari tours
---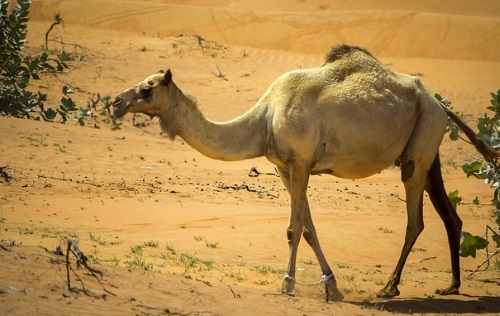 You can also see camels on a desert tour in Dubai
Some offers for day trips in the desert of Dubai
1. Big desert tour in the afternoon and evening
This day trip goes to Camp Al Khayma. It is one of the most popular tours and is always praised by participants. The tour is organized by OceanAir Travels, a well-known company in the United Arab Emirates. Everything is included in the price: a thin ride by car, camel riding, dinner in the desert, some drinks, belly dancing and many small things. Hardly anyone was dissatisfied with this tour. Daily (15 o'clock) to about 22 o'clock with free collection in the hotel in Dubai.   >>> On this link more info and booking
2. Inexpensive desert excursion in the morning
This desert safari in Dubai is in the morning and without food, but much cheaper. As always there are camel riding, dune riding and sand boarding. There are 2 options for this desert tour – with and without quad riding in the sand of Dubai.   >>> On this link more info and booking
3. Cheap desert tour Dubai with camel riding, dinner, desert safari and …
This trip to the desert of Dubai costs less than 50 Euro per person and includes many activities. Also a good BBQ (buffet, also vegetarian possible) is included. On this 6-hour trip, Ammar Tours will pick you up free of charge from your hotel in Dubai and take you back home after the desert safari. Hardly any tour has better ratings, the guides have a very good reputation. This tour is our recommendation.        >>> On this link more info and booking
Video Desert Safari Dubai
Short film (duration 7 minutes) about a typical desert safari as described on this website with all important attractions:
---
—>>>> On this link you can book the tours
More great sights in Dubai
Also for other attractions and tours in Dubai you should buy tickets in advance on the Internet. It is difficult to find the right agency on the spot, often there are long queues or the tours are sold out.
1. Water Park Wild Wadi: Directly in Dubai, not far from the best hotel in the world, the Burj al Arab. One of the best water parks in the world. There are far more than swimming pools and slides, a total of more than 30 major attractions such as rides. You have to see the Waterpark Wild Wadi! >>> More info and booking
2. Aquaventure Waterpark: Not far from Wild Wadi Waterpark on the gigantic artificial island of Palm. One of the largest water parks in the world. Many rides, other attractions, gigantic slides, beach and animals like sharks. The Aquaventure Water Park is a must to visit when travelling to Dubai. >>> More info and booking
3. City tour Dubai: From our point of view the best city tour in Dubai. With hotel pick-up, all important sights of Dubai. Daily mornings and afternoons. >>> More info and booking
4. Boat tour Dubai: A great boat tour with sights of Dubai like Palm Jumeirah, Hotel Burj Al Arab and Marina Dubai. >>> More info and booking
Further safari tours:
1st Al Khayma Camp: Camel Safari, Red Dunes and BBQ; More info and booking
2nd Al Khayma Camp: Quad Bike Riding, Sand Surfing, Camel Riding and BBQ: More info and booking
3. 4X4 jeep driving on dunes, 30 min quad biking, camel riding, shows, dinner: More info and booking


Deutsche Version dieses Artikels